…Like, what are you doing?" – Kristen
If you haven't listened to our first podcast, do so here!
Those who know me well are often painfully aware of two things. Let's call them "strengths" for now. First, that I love to quite literally, "act things out." In a meeting once, the department chair was talking about collaborations between faculty and graduate students. Naturally, I raised my hand and asked the department chair to 'act out' this exchange. You know the emoji with the big eyes?… that was the look on the faculty's face, followed by my colleagues snickering. In a panic, I started what would have been my side of our acting,… "so, umm, hey, do you, like, want to collaborate on something…here's my dumb idea.."
>> END SCENE
In the hall later, while having a good laugh about it, many of my fellow students thanked me. I've never been afraid of asking questions, and as a social scientist, I know all too well that we often take-for-granted the things that we think, "everyone already knows." Writing plays a huge role in our academic lives, and yet, we don't talk about it. Acting it out, is my way of visualizing and getting a feel for something in the practical sense!
In short, what I was asking was, are you only typing? Are you reading a bit too? Or are you just, 'beep, bop, booping' on the keys? Are you doing a combination of all three? For me, I am doing a combination of things. I'm outlining paragraphs, finding my notes on what I want to say in the paragraph, searching for quotes in the physical book, etc. Some days, I feel like I don't get much done. Maybe a sentence or two, other days it may be a few pages… So, "when you say that you are writing, like, what are you doing?"
The answer? Thinking and reading is part of writing, but you also need to write! In order for me not to get too far into the weeds, I allow myself to think, read, search, etc. for one round of writing, then I write (get those words on the page- don't fix, just write) the next round.
Suggested Tools & Tips
As mentioned in the episode, Rachel uses the "Pomodoro Technique" it is a time management tool. To find out more about it click here. Both of us use, the "Focus Keeper App" for Apple products, it's a simple app that puts this technique to use. Write for 25 minutes, get a 5-minute break to procrasta-clean. Find it here. Zach does a version of this too, but instead of a break, he moves physical locations!
Get in the right mind set. Be consistent.
Gretchen Rubin's book: "Better Than Before: What I Learned About Making and Breaking Habits—to Sleep More, Quit Sugar, Procrastinate Less, and Generally Build a Happier Life" is the book Rachel mentioned about habit formation and finding the things that work for yourself.
If you do your writing for the day, give yourself a break from the guilt. Watch that Netflix in peace!
CLOSE your social media, for the love of God.
Put your phone on 'Do-Not-Disturb,' you can select 'favorites' which will break the 'Do-Not-Disturb' in case you are worried about family and emergency calls. Google it.
Rainymood! Check out the free version on rainymood.com or download the app. Rachel and I both use this site/app.
Get a mantra! "Do it!" "Just keep swimming"
My second "strength" is crazy ideas that I think are great. These are not always agreed upon, but I can be quite convincing. Like my "Imposter Syndrome" fine wine, packaged in beer cans. This is my Plan B, who is with me?
Self-Care
Biore Self Heating One Minute Mask- Allure Best of 2015! Google it! Free those Pores!!!*
Zach: 5 Stars! "would do it again!!"
Rachel: 3 stars! But she is a mask snob!
Kristen: 4 stars!
I hope you enjoyed our first episode! Keep Surviving Academia!
Kristen et al.
Follow up note:
This is my cute dog, Leo, that Zach wanted to delay breakfast to. This dog is not denied food due to my poor life choices (in fact, his food is super expensive and sometimes more than I pay for my groceries!)! That's his radish that he demolished about 45 seconds after this photo was taken.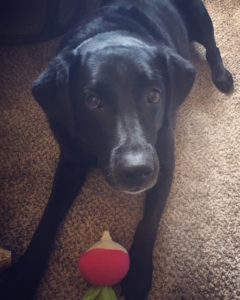 *We are NOT sponsored by Biore, or anyone else!